PlayARt loves Record Stores!
1. PERSONALIZED SERVICE.
You are 3X as likely to discover something new shopping locally
2. CONNECT WITH YOUR COMMUNITY.
Bump into friends, enjoy lively streets and sidewalks. Be a part of it!
3. IMPACT LOCAL ECONOMY.
Shopping in your community creates jobs and strengthens where you live.
Shop Local!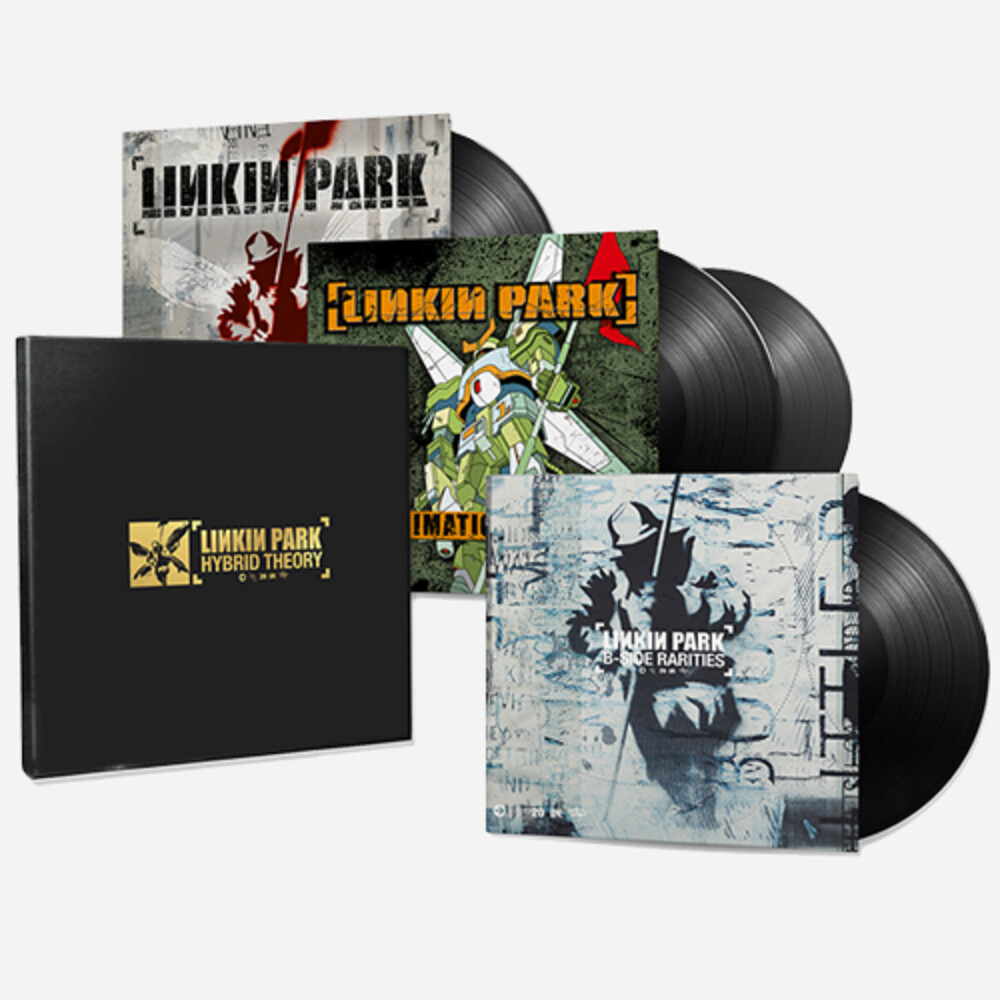 Details

Format: Vinyl
Label: WARNER RECORDS
Rel. Date: 10/09/2020
UPC: 093624893233
Visualizers plus on cover videos.
Hybrid Theory: 20th Anniversary Edition [4LP]
Artist: Linkin Park
Format:
Vinyl
DISC: 1
1. Papercut
2. One Step Closer
3. With You
4. Points of Authority
5. Crawling
6. Runaway
7. By Myself
8. In the End
9. A Place for My Head
10. Forgotten
11. Cure for the Itch
12. Pushing Me Away
DISC: 2
1. Opening
2. Pts. OF. Athrty
3. Enth E Nd
4. [Chali]
5. Frgt/10
6. P5hng Me A*wy
7. Plc.4 Mie Haed
8. X-Ecutioner Style
9. H! Vltg3
10. [Riff Raff]
11. Wth>You
12. Ntr\Mssion
13. Ppr: Kut
14. Rnw@y
15. My Dsmber
16. [Stef]
17. By_Myslf
18. Kyur4 th Ich
19. 1Stp Klosr
20. Krwling
DISC: 3
1. One Step Closer (Rock Mix)
2. It's Goin' Down
3. Papercut (Live from the BBC)
4. In the End (Live BBC Radio One)
5. Points of Authority (Live BBC Radio One)
6. High Voltage
7. Step Up (1999 Demo)
8. My December
9. A Place for My Head (Live at Docklands Arena, London)
10. Points of Authority (Live at Docklands Arena, London)
11. Papercut (Live at Docklands Arena, London)
12. Buy Myself Remix (Marilyn Manson)
More Info:
Released in October 2000, Linkin Park's groundbreaking debut album ​Hybrid Theory​ is a melting pot of heavy alternative rock, hip-hop and electronic flourishes that inspired a new genre of music and a generation of dedicated fans, who continue to be loyal followers of the band. Additionally, the band's sound influenced many young bands who related to the intense and emotional musical style. ​Hybrid Theory​ was the best-selling album of 2001 in the US and has since exceeded 11 million album sales in the US, qualifying for the rare Billboard "Diamond" award.

Hybrid Theory's​ success was supported by intensive touring, and three successful singles: "One Step Closer," "Crawling," and "In The End." The band won their first Grammy Award for "Crawling" as Best Rock Performance.

To celebrate 20 years since the original release, ​Hybrid Theory​: ​20​th​ Anniversary Edition ​will be released on October 9​th​, 2020. The flagship format is a super-deluxe edition box set that includes unreleased and hard-to-find material on CD, vinyl and DVD. The box set also includes a lavishly illustrated 80-page book with contributions from the band and many previously unseen photographs, plus a replica tour laminate,an oversize poster of Chester Bennington, and 3 lithographs of new artwork supplied by Mike Shinoda, Joe Hahn and Frank Maddocks (the art director on the original release, and this anniversary edition).
Reviews:


Vinyl Box Set 

Contents:
Hybrid Theory (1 LP)
Reanimation (2 LP)
B-Side Rarities (1 LP) (Note: This is the only format where the vinyl of this new compilation will be available. It is on CD in the super-deluxe box)
SIDE A
1 One Step Closer (Rock Mix)
2 It's Goin' Down
3 Papercut (Live from the BBC)
4 In The End (Live BBC Radio One)
5 Points Of Authority (Live BBC Radio One)
6 High Voltage
SIDE B
7 Step Up (1999 Demo)
8 My December
9 A Place For My Head (Live at Docklands Arena, London)
10 Points Of Authority (Live at Docklands Arena, London)
11 Papercut (Live at Docklands Arena, London)
12 Buy Myself Remix (Marilyn Manson)