PlayARt loves Record Stores!
1. PERSONALIZED SERVICE.
You are 3X as likely to discover something new shopping locally
2. CONNECT WITH YOUR COMMUNITY.
Bump into friends, enjoy lively streets and sidewalks. Be a part of it!
3. IMPACT LOCAL ECONOMY.
Shopping in your community creates jobs and strengthens where you live.
Shop Local!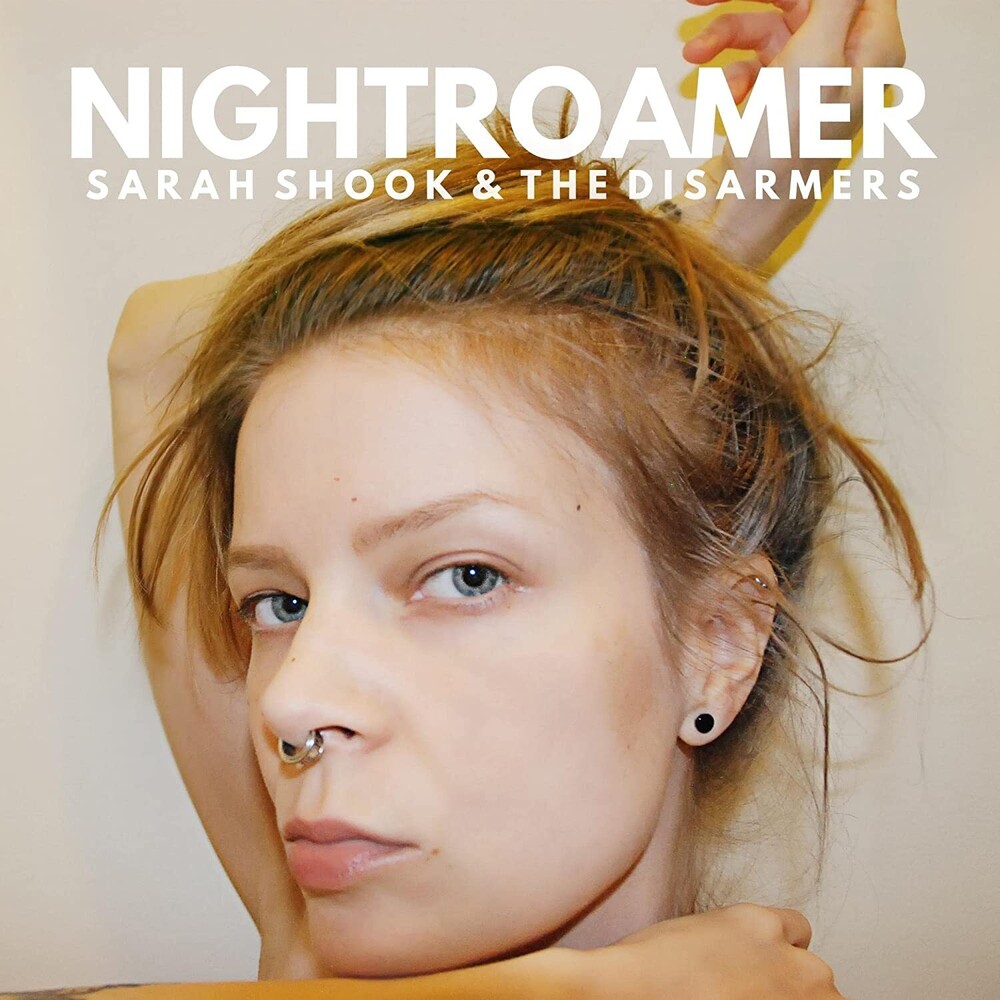 Details

Format: Vinyl
Label: Abeyance Records
Rel. Date: 02/18/2022
UPC: 195893331741
Visualizers plus on cover videos.
Nightroamer [LP]
Artist: Sarah Shook & The Disarmers
Format:
Vinyl
DISC: 1
1. Somebody Else
2. Been Lovin' You Too Long
3. If It's Poison
4. No Mistakes
5. Nightroamer
6. It Doesn't Change Anything
7. Stranger
8. I Got This
9. Believer
10. Talkin' To Myself
More Info:
"I'm starting to realize that being an outlier and a weirdo––it doesn't have to be a bad thing," says Sarah Shook. Shook pauses, then adds with a grin, "It can be whatever you want it to be."

Shook is home in North Carolina, talking about Nightroamer, the hotly anticipated new album from their band, Sarah Shook & The Disarmers. Backed by white-knuckle playing from Eric Peterson on guitar, Aaron Oliva on upright bass, drummer Jack Foster, and Adam Kurtz on pedal steel, Shook has pulled from Hank Williams, Elliott Smith, the Sex Pistols, and Shook's own inquisitive, open, outlying self to create pop-savvy, honky-tonk punk that's both an escape and a reality check––a re-opened wound and a balm. Relationships and life-changing realizations are dissected with honesty and humor, three tight minutes at a time.

When Sarah Shook & The Disarmers released Sidelong four years ago, the irreverent quintet's debut turned heads around the world. Then 2018's follow-up Years hooked everyone from Rolling Stone to Vice. "This ain't no country for hipsters or posers," said No Depression. "It's real, raw, mean-and-evil-bad-and-nasty bidness." Then, the first two albums turned into a tease: The pandemic shut down the world, just as The Disarmers finished recording Nightroamer in Los Angeles. The band has had to sit on the album––until now.

Nightroamer is worth the wait. This is still a band whose recordings beg to be heard live, either in a punk-rock hole in the wall or honky-tonk roadhouse. Shook's voice is crystalline––but boozy, too, with a cadence that sounds comfortable resting in the pocket before lagging, jumping, or cozying up to the offbeat. What initially may feel like a slip is actually a stroke––and listeners cannot get enough.

Produced by Pete Anderson, Nightroamer is the confident next step fans hoped The Disarmers could take. "I think this record is different than ones we've done in the past. It feels every bit as expansive as I wanted it to feel," says Shook. "I didn't want there to be a shocking, jarring difference, but I definitely wanted it to feel like things are opening up. It's a bigger feeling experience."

Asked what they hope listeners experience, Shook is clear. "Music is one of the ways we can connect to other people," they say. "That's my hope: That people feel seen and they feel connected to something that brings them a sense of peace."